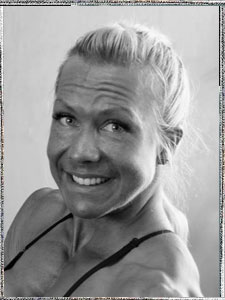 Veera
Name: Veera Salomaa
Age 31 years old
Nationality: Finnish


Website: www.nutrica.fi
Veera is an international girl, who has lived, worked, studied and also played sports abroad. Currently Veera lives in Finland, runs her own company and lifts weights. Due to her lifestyle, she is still single and has no children.
Veera has done sports all of her life. She has mainly played team sports and biggest achievements in team sports are in Ice hockey. She has played in multiple teams and mainly as a defense player. The last team in Finland she belonged to was TPS (Turun Palloseura), which played Finish National league. Veera was also awarded with a scholarship to play Ice hockey in United States. This was in year 2005-2006. Veera played University hockey (3rd division) for one year. After this year Veera moved after studies first back to Finland and then to London, England. Ice hockey was not possible to play in London, so lifting weights became more dominant than ever before. Lifting weights took Veera all the way to her first Body Building competition in autumn 2013 (Finish Nationals, Nordic Fitness Expo, IFBB). (Pictures attached are from the preparation time.) Condition was absolutely the best in line up, but more muscle mass was needed. Veera was 4th in her class. After body building competition weightlifting started to interest more. This interest became reality and without actual preparation or technique training, Veera attended to her first weightlifting competition in Poland in autumn 2014 (World Championship, Raw, IRP). In Poland, Veera weighed 75kg and benched 80kg (2nd) and deadlifted 155kg (5th). The second competition was already in three weeks time in Finland (Finish Nationals, GPA, raw) were Veera weighed 73,5kg and Squatted 140kg (with straps), benched 80kg and deadlifted 170kg. Veera was hooked by weightlifting even though technique or results were nothing to be too proud of. In Poland Veera met the Team Eisenhart and was invited to Sportschool Vitalis in December 2014. In Vitalis Veera got an introduction to weight training world. Sepp Maurer, the coach, saw potential, power, but techniques were a big area of improvement. Since the visit Veera has followed Sepp's plan in training. Veera is commited to her plan and is willing to travel every three weeks or so to Sportschool to be checked by Sepp. Veera has a heart of an athlete, she has the focus and determination needed to achieve what is possible and sometimes beyond that. Next personal goal is to attend Eisenhart challenge and improve (my away) results with great numbers.
Beside sports, Veera has other achievements too. Veera has served in Finish military as a Jaeger group leader and team deputy director as a staff sergeant. She was in army for one year and has attended few times in rehearsals. She was awarded after her service. Veera has also educated herself. She went to sport massage school and was awarded as best in her class, beside massage school she studied exercise sciences in university. In America she studied fresh man year in health care with First Class Honored. In Finland she studied chemistry before moving London to study Biosciences. In London she graduated with First Class Honored and became a Nutritionist. Her final year project was awarder and some of other studies were published in scientific journals. In year 2010 she moved back to Finland and is now making a career as a Nutritionist and athlete coach as a self employee. She has been asked to give lectures about nutrition and training, and is attending to different sport events around Finland with her athletes.